Rzeszow is a rather small city in Poland, which, however, has recently been talked about a lot around the world, mainly for political reasons. For some time now, Rzeszow has also been a city developing in the film industry. Apart from the fact that many cinema lovers live here, there are acting schools; there are workshops for enthusiasts and future adepts of the tenth muse, who deepen their knowledge and create etudes under the supervision of experts; not forgetting the outstanding work of the Podkarpackie Film Commission, whose co-financed projects were nominated for the most important film awards, such as the Oscars ("Cold War" even won an Academy Award). What's more, the legendary director Fred Zinnemann also came from Rzeszow, whose productions such as "High Noon", "The Day of the Jackal" and "From Here to Eternity" delight to this day and belong to the canon of American cinematography.
Nowadays Lukasz Rog also aspires to be one of the artists from our city. An amateur, self-taught director, a dreamer who wants to make spectacular American-style cinema in modest Rzeszow. Fulfill his American dream in Rzeszow! Does this sound arrogant, or is it material for a movie itself? Is it possible to create a hit production without a big budget and the school?
Lukasz Rog – a dreamer and a very lucky person!
It all started with commercials and music videos. It must be admitted that Lukasz performed brilliantly in this field. He has a good eye and vision that works and can make an impression in short forms. He made commercials for Red Bull, Monster Energy, and Dodge, as well as music videos for Bring Me the Horizon and The Anix. He was even offered an advertising contract in Hollywood! But at some point, Lukasz wanted something more – a movie. And since he only loves and watches American cinema and, above all, specific directors (Michael Mann, Christopher Nolan, Denis Villeneuve), he wants to produce movies in this and their style. And so, in 2021, he invited and convinced professional actress Magdalena Kozikowska Pieńko to cooperate, and mainly with his own modest means and with the involvement of his friends, he made NO STARS ANYMORE. Well, in my opinion, it was a visually impressive short film, but it had numerous shortcomings, it lacked a coherent script – the main idea that would engage the viewers. More about it here: LINK
Today, Lukasz admits that he drew conclusions from making this production and learned a lot. And he didn't give up. Somehow he easily infects others with his enthusiasm and passion. Hence, when preparing for his debut – a full-length film – he, first of all, worked on the script, engaged professionals, and, most importantly, landed money. Considering Polish or Rzeszow conditions, pretty big money. This could have been achieved thanks to establishing cooperation with Ryszard Kalisz, a private entrepreneur, and owner of the local fibre optic giant Fibrain, with whom Lukasz founded the first film studio in the city, Lukra Films. The company's goal is to create international feature films, on their own terms, based on Lukasz's ideas. Their first full-length film, titled RAGE OF STARS, develops the concept from a short film, but, as the creators assure, it will be a different movie, made with a professional crew and a different cast.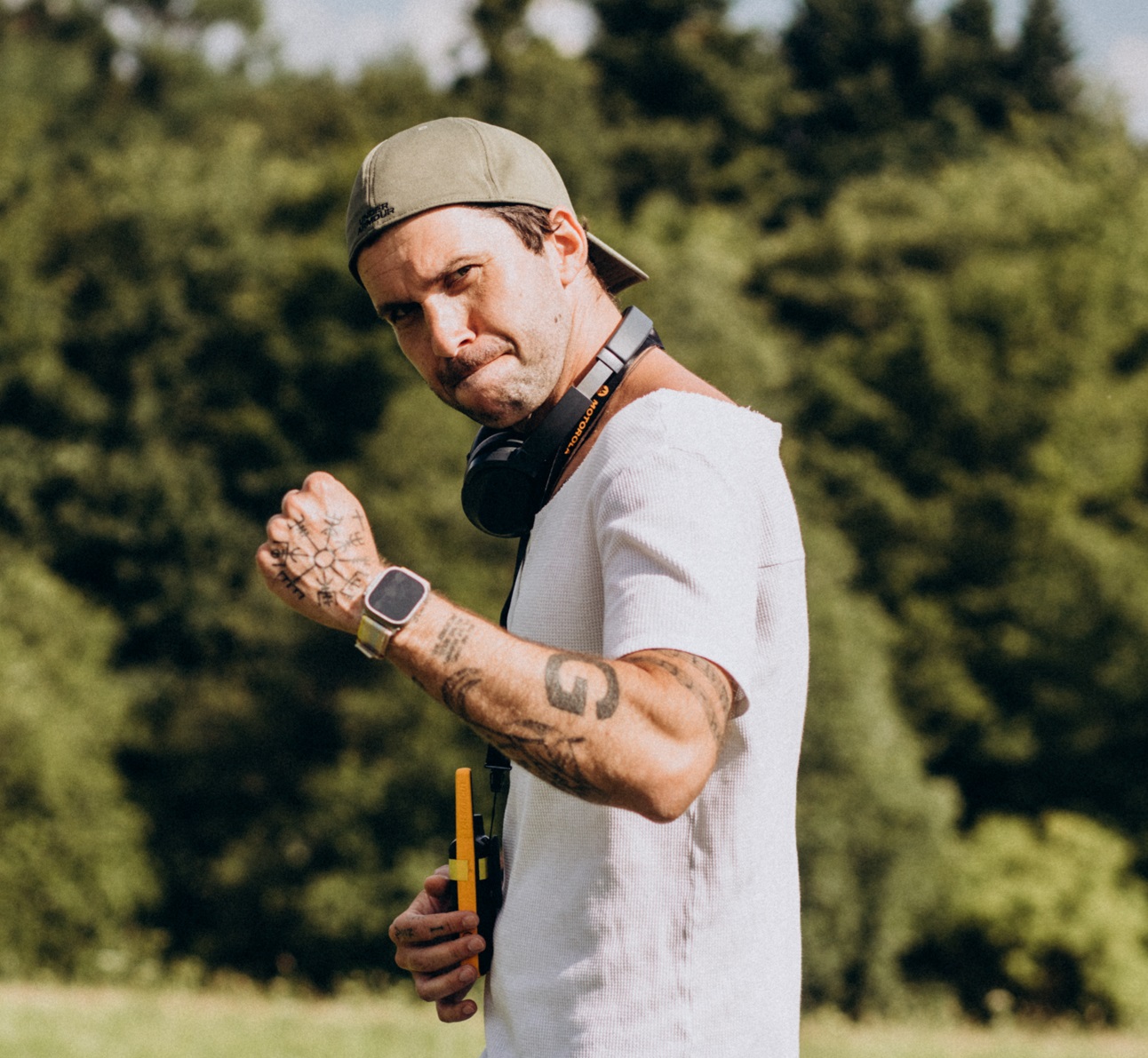 Rage of Stars – a film built on passion
Lukasz recalled: "After the premiere of the short film, I was approached by the boys from SuroganMedia, i.e. Wojtek Pawłowski, Paweł Rykiel, and Radek Tworek, a film production company, who offered to do another project with me for free. When the film changed its shape and I got the budget, I took them with me. And I entrusted them with building my team from the technical side – sound crew, lighting crew, storyboards, etc. If this film is successful, it will be really mostly because of them".
The technical crew, made up mainly of people from Rzeszow, was not only much younger, and although most of them had not worked specifically on the film set yet, they were often much more experienced than the director himself. Lukasz learns from YouTube, after all. However, he honestly admits that working on this production has taught him a lot. He was not afraid to ask questions and was open to suggestions. Seeing that these people knew what they were doing, he simply let them do their thing, keeping only his vision.
Rog also worked on a script, although he's still not a huge fan of it. The text was sent to three people, and the final corrections were made a week before the shooting began. But this working style did not discourage the actors who eagerly responded to the offer from Rzeszow.
Rage of Stars – cast
Lukasz, who is fascinated by American cinema, has shot his movie in a truly Hollywood style. The film had to be in English, so to avoid the effect of an artificial language/accent, he hired international actors. The cast included Andrea Tivadar, Jord Knotter, Elijah Rowen, and Jack McEvoy – both known from the "Vikings" series, and three Poles – Malgorzata Klara, Mayu Gralińska Sakai and Jakub Ormaniec.
"Eight thousand actors from all over the world have applied, of which 6,000 were great. Even a casting agency had approached me with an offer of help, but their types didn't suit me. I didn't feel their choices, so I decided to find my stars on my own. For three months I watched the applications one by one, and finally, I made a list with ten names for each character. I decided that I would call every name, starting from number one, and if the first choice was not able or willing to work with me, I would call the second one, etc. It worked very well because 80% of my first choices accepted the proposal." – Lukasz admitted.
Of course, most of the actors also had more experience on sets than the director himself, but they unanimously stated that they trusted Lukasz, and were captivated by his vision.
Jord Knotter: "It doesn't feel like he's inexperienced. Obviously, I didn't know him because he is Polish (…) We had a Zoom call and because of his energy, his drive, and his passion I agreed to work with him. Well, for Lucas, it's like <I have to make this movie or I die>. So I thought, I want to work with him. I've never really experienced a director with such positive and relaxed energy and it reflects on the whole set, crew, and cast. (…) And he really knows what he wants. He edits the movie in his head while shooting, he knows exactly what he is doing. It's rare".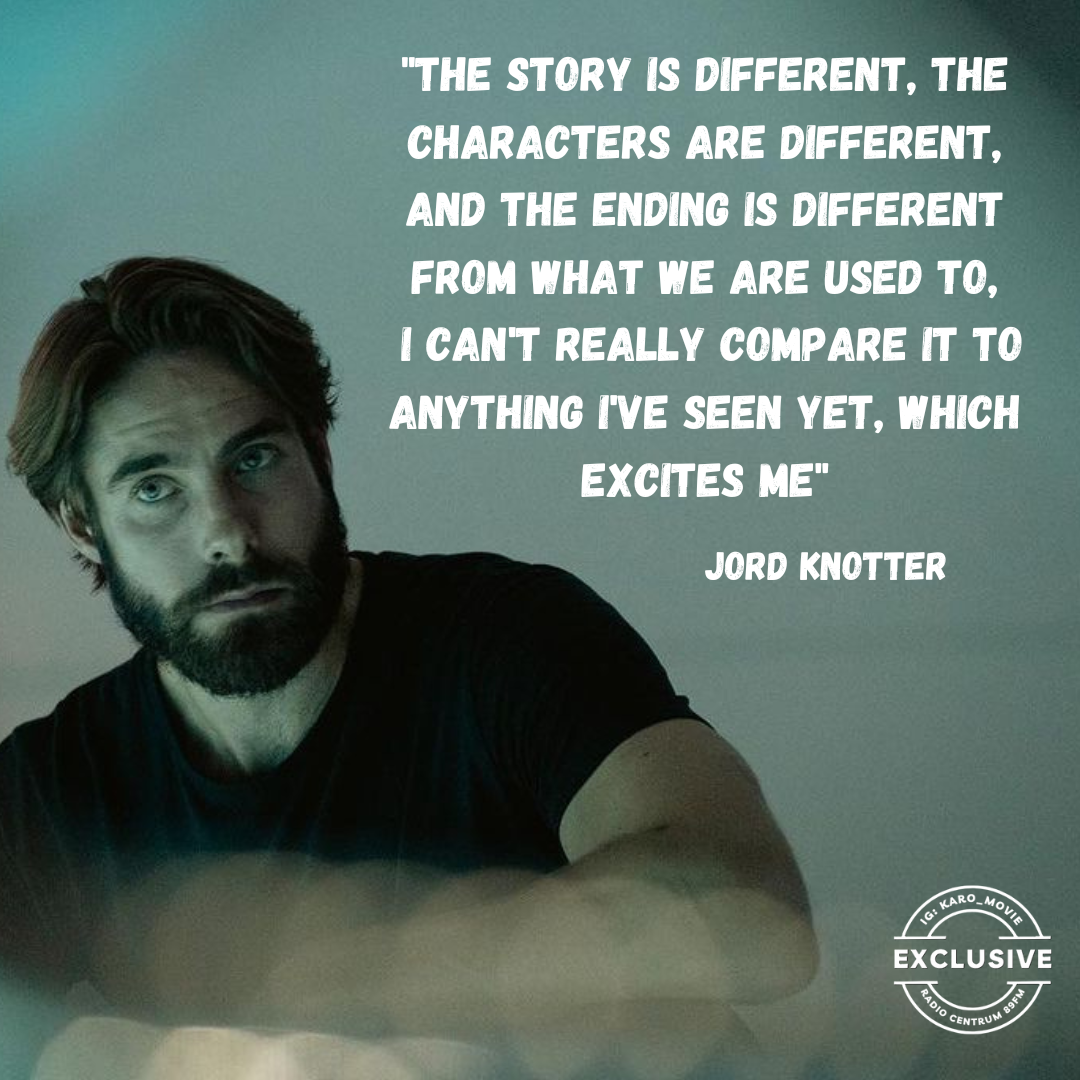 Each of the actors was convinced to take part in the project by Lukasz's energy and the strength of his dream, although they all were surprised that he did not shoot many takes. However, the cast found it unique and interesting, and as Mayu Gralinska Sakai said: "It is sometimes disturbing, although it adds lightness to the work. I trust his vision, and often when repeating the same shot many times, the message can be lost. (…). But I think it might be a challenge, later on, to keep the plot logically going because some of us are really creative".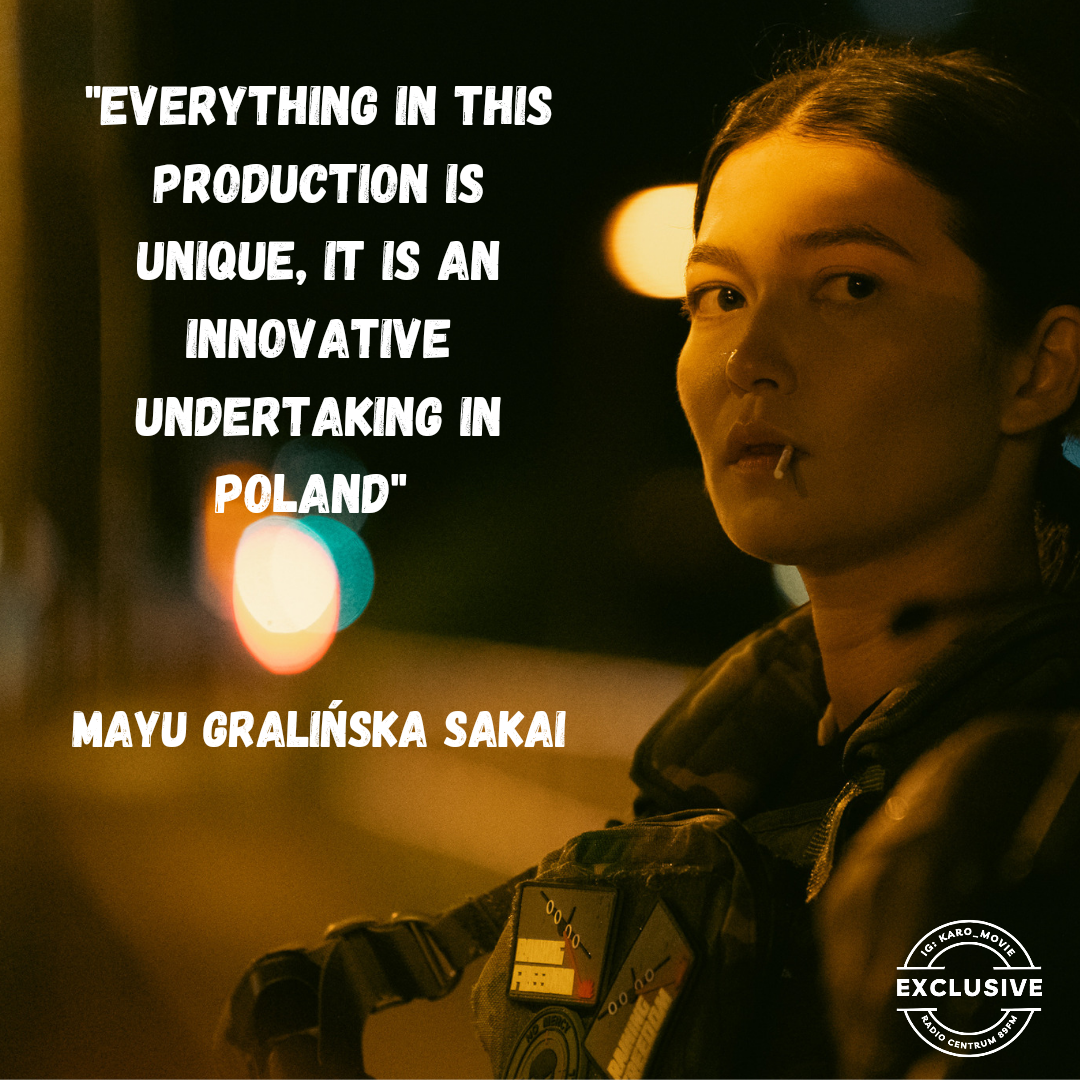 Elijah Rowen revealed that, in his opinion, directors often lose the energy and enthusiasm of their people by shooting the same thing a dozen times and trying to get that particular scene, and in this case, it sometimes brought out the best in them, like on a theatre stage when there is no place for repetitions. The actor, who is a screenwriter himself, also said that Rage of Stars is a strong story and that Lukasz is very open and has allowed them to improvise a lot.
"Lukasz has this great approach, he is open-minded, he has his wonderful vision, but also he is willing to hear other people's takes, their visions and play with them. When something is not confined the art can really happen. I think most of the best moments in this film come from something we didn't expect or plan. (…) There's a lot of improvisation, which is welcomed. He let us do our things. My friend always says <you have to let creative people be creative>. (…) I think we have got something very individual and quite new here – Lukasz's willingness to let the scenes go on wherever direction they might go and his willingness to let the actors pull their individuality out".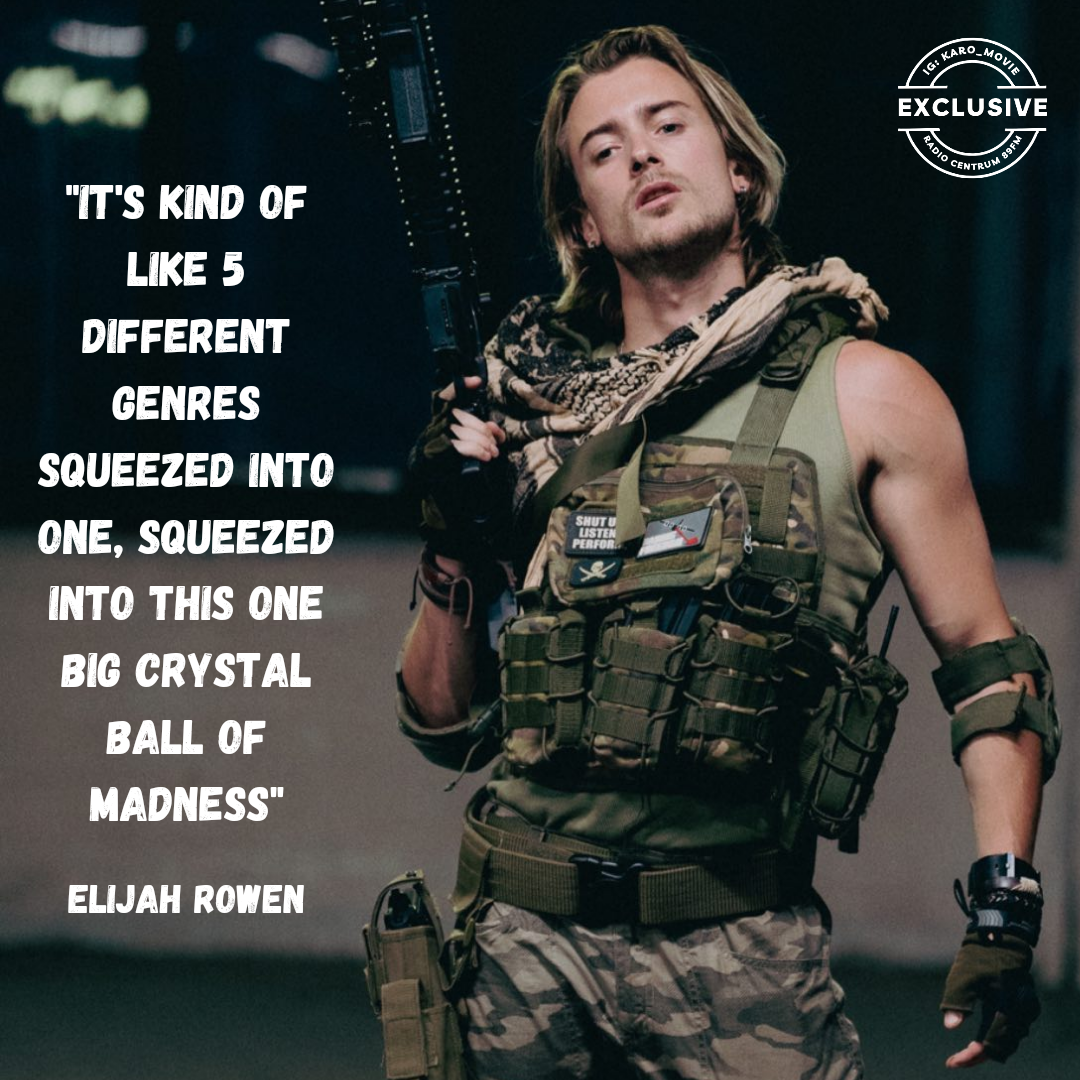 Playing her first main role, Andrea Tivadar, who stars as Jemma, has repeatedly said that this is the adventure of her life. According to her, the set was wonderful, and the director was a magician.
"I think he is a magician. I just really appreciated what he did on No Stars Anymore. That was what convinced me. I thought <Oh wow, he has managed to do it with close to zero budget, so what could he do if he had a little bit more?>. This set was glorious. We had so much fun, everyone's lovely. Working with Lukasz is great. He's great, he knows exactly what he wants, he really trusts us and we trust him 100 percent. It's super smooth, we don't do many takes, which is really interesting as well. We do a bit more only when he feels that his vision hasn't been met".
Rage of Stars – what is this movie about?
It's quite mysterious what the film will be about because no one wanted to say too much so as not to spoil the audience's experience. The end of the world, an agent with visions, kidnapped children, it can even be read as a story about humanity and sacrifice – people said on the set. Lukasz confessed: "There is some love, sadness, drama, although it seems to me that most of it is loneliness, there is a lot of trust, betrayal, there are many things that happen to each of us in life and how we try to get through them".
Jack McEvoy revealed that this movie is more than just another action film, even though he initially thought of it as such. Over time, however, he saw a story in it. The actor said: "For me, the movie sends a message of hope, that we must stand together, put our differences aside, whatever they might be, whatever background we're from. (…) My character's journey transcends that message of hope, that there is a little game with some loss, little redemption without forgiveness. (…) This movie is made out of great passion. Above all it sends a really strong message about understanding the world that we live in and that we need to maybe adapt way slightly before things get a little bit cookie. I won't work on a production like this for a while, I'm sure".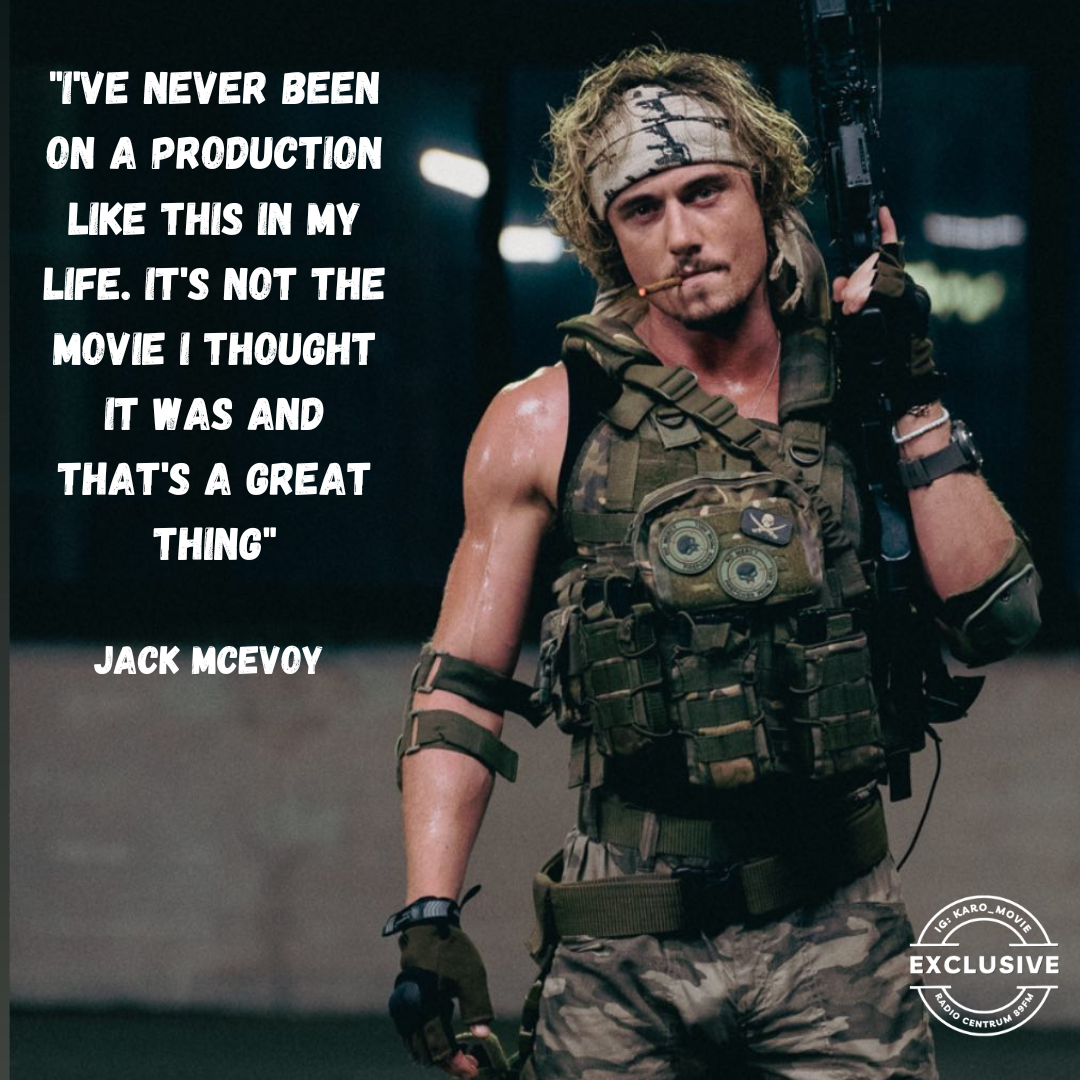 When shooting an American film in Poland, the director focused on big scenes. There are helicopters, wolves in the streets, some shooting, but not too much. According to the actors, the film breaks the mold and is unpredictable because it combines many genres. Malgorzata Klara: "This film is not just an action movie. It's such a mix. There is a bit of drama, a bit of psychology, a bit of science fiction. Our film defies one genre. It's hard to classify it. I hope it will move viewers and make them laugh sometimes".
But music remains the most important thing for the director. Yes, he has dialogues in the film, but he still recorded with one earphone in his ear with a playlist of songs that inspired the images in his head. As with the previous production, Lukasz would like Paleowolf to remain the composer. The talks are ongoing, and according to the creator, it's not the editing but the acquisition of the music that worries him the most. It seems to be the most difficult about this production. Because without music, or better said without the music that the director has in mind, there is no film… Will he be lucky this time, as with everything else?
Lukasz Rog – what's next after Rage of Stars?
The debutant Lukasz infected a large group with his passion, they were surprised by what could be done with a non-American budget, and everyone unanimously admitted that they would be happy to continue working with him. Jakub Ormaniec: "It's crazy. Everyone says that. But that's a cool thing about it, I think. And it works from what I've seen on the screen, the images we're making. He was able to gather so many people who really cared about this project, every single person on set was really invested and really wanted to do the best job possible. It is crazy but it might work out. (…) What we did here was unique. Every day on set was an adventure. I would love to do it again".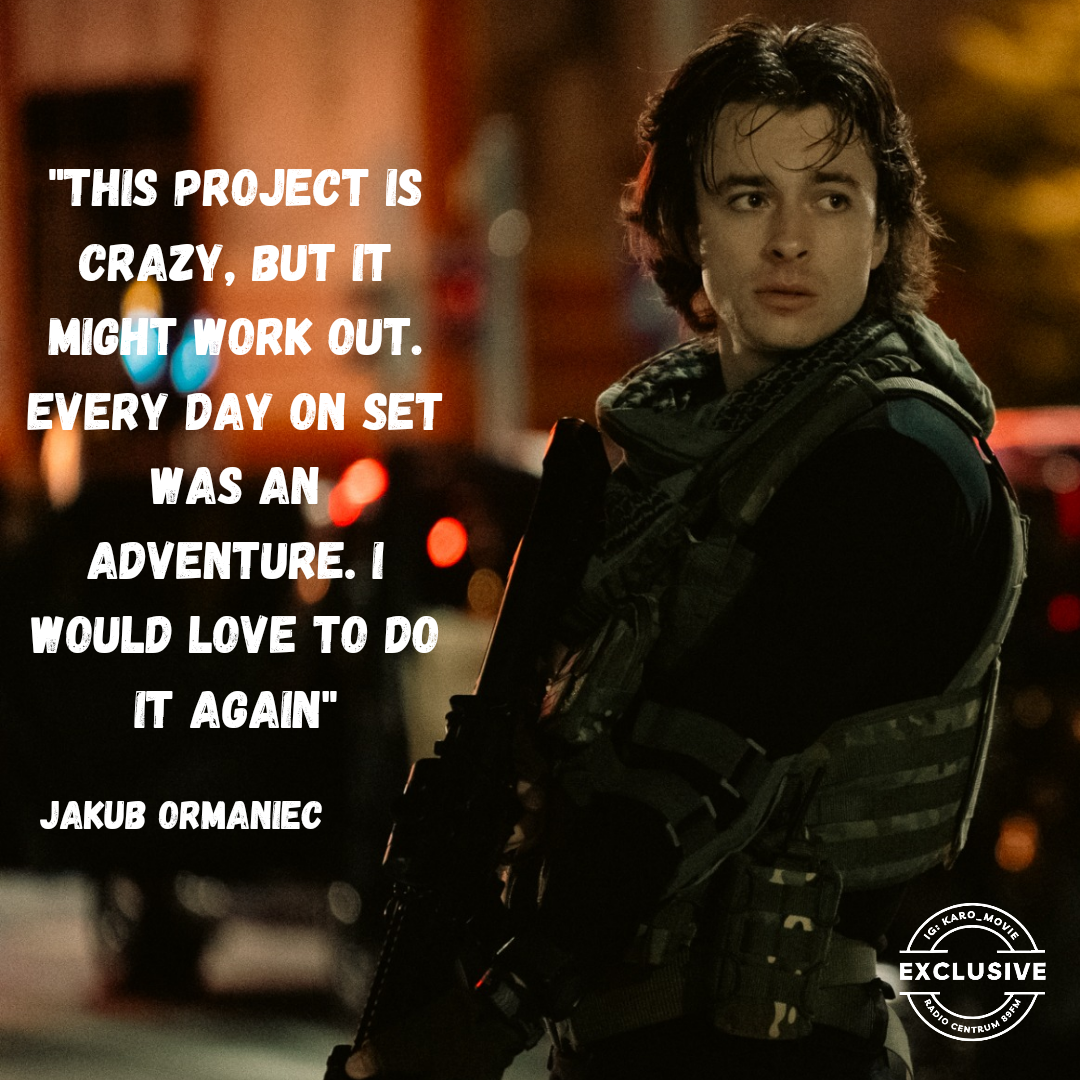 And knowing his enthusiasm and luck, it is highly probable that this will happen. Actually, Lukasz is preparing another project – a heist movie, which he also plans to make in Rzeszow unless someone from Hollywood calls him…
However, before that, he must finish Rage of Stars and in my opinion, everything depends primarily on the editing. Lukasz has many good shots, and material, as was joked, for a 6-hour film, so now he faces a great challenge to create a coherent, interesting story. For now, we had the opportunity to see the first teaser, which is supposed to show that it wasn't just fun but that making this film is a serious matter LINK.  The premiere is planned for next year.
If you want to learn more about working on the set and find out more about Lukasz's story, listen to the interview recorded for Radio Centrum. Interviewed by Karolina Marciszewska:
Author: Karolina Marciszewska
Photos: Lukra Films (Aleksandra Zielińska, Karol Wiktor, Karolina Pelc, Radosław Tworek).